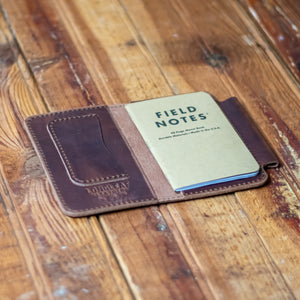 Morgan Pocket Notebook
Sale price Price $50.00 Regular price
Whether you need to jot down notes, draw a quick sketch or need a new way to keep up with your honey-do list, you'll be ready with the Morgan Pocket Notebook. Designed to hold a standard Field Notes notebook, a few spare pages and a handful of business cards, this is the perfect grab-n-go companion for any line of work. 
This item comes standard with one complementary Field Notes notebook.
*Please Note: Images shown are for illustration purposes only unless otherwise stated. Every piece of leather is different and unique. All of our products are truly hand made one at a time. Because of that, each piece will look a little different in texture, color or stitching. We make consistent, quality goods, not clones.